Striped Camo Blue Swim Shorts - 3"
STYLE: Compression lined swim trunk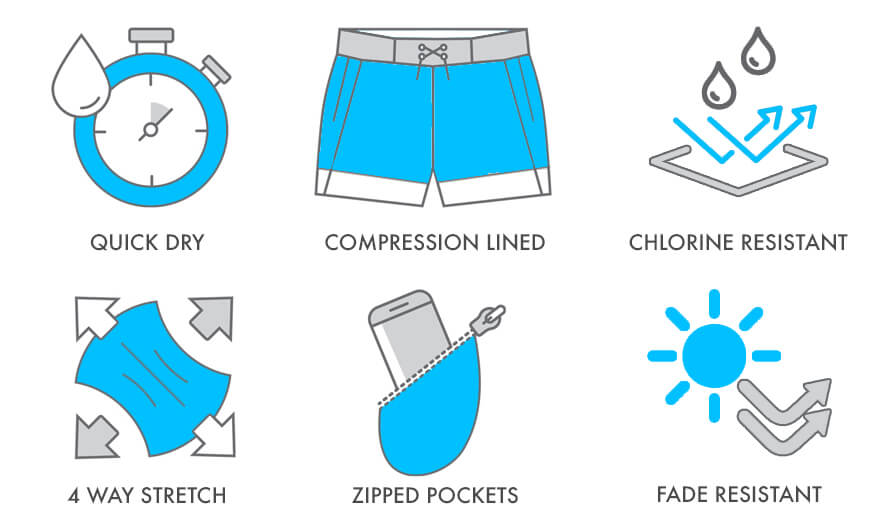 Striped Camo Blue Swim Shorts Despite their name, our Blue Camo shorts aren't going to help you blend in! But they definitely deserve a place in your beachwear closet. Blue camo is one of the easiest prints to style and since they're also comfortable and practical, we have made it even easier for you to showcase this top summer trend.

The Blue Camo shorts have lining on the inside to ensure a comfortable and luxurious fit. The 4 way stretch design allows for the full range of movement with no restrictions. You'll barely feel our board shorts – but you can bet that everyone else will notice them! Wear these shorts anywhere. Made from quick drying swim suit material, you can go from the beach to the bar without missing a beat.

Our Blue Camo shorts feature an elastic waistband with drawstring. This allows for a perfect fit, adjusted to how you prefer your shorts to look and feel. These shorts have three dust and water-resistant pockets, two in the front and one in the back, all of which can be zipped up for your convenience.
Make the Blue Camo swim shorts your own.


Features

4 way stretch sublimated print material allows you full range of motion and minimal restriction
In built swimming trunks means no more wet jocks! Made from swimming trunk material/
Elasticized 1/2 waist at the back, tie at the front allowing for the perfect fitment and adjustment while keeping an aesthetic front.
Dust and water resistant zipped pockets
Back pocket 

Lifestyle model David is wearing a Large